---
---
Reproduced with kind permission
from Zest Magazine
For You and Him
Kate Langrish escapes on a romantic coastal break for two on vintage wheels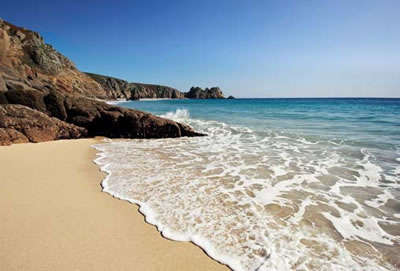 Holidaying in the UK is a great idea – no ash clouds, check-in queues or cabin crew strikes; you're officially 'away' as soon as you leave the house. The downside is the weather. But in Daisy – a cheery yellow, vintage 1971 VW campervan we've hired for the week – I think we've found the solution.
The fact it hasn't stopped raining since my husband and I arrived in Cornwall doesn't seem to matter. We pull up next to a beach, snuggle up inside Daisy's retro interior, brew up a warming cuppa and, through the dunes, watch the windsurfers and kitesurfers whizz by on the waves. Once it eases off, we head out for a blustery walk on the sand. And at night, the sound of the rain pattering on Daisy's pop-up roof while we're cosy and warm inside just adds to her charm.
Of course, when the sun does come out, Daisy comes into her own. Windows down, bouncing along the coast roads, stereo blaring, we really feel like we're getting into the surfer vibe. So much so, we decide to get a taster lesson at the O'Neill Surf Academy in Watergate Bay, Newquay. It's only a half-day course – so no danger of getting too cold from constant 'wipeouts' – but we feel we've been true to Daisy's surfer heritage. Proud that we caught a few waves, we return to her feeling sandy and windswept, but happy.
Cornwall is packed with fantastic coastal campsites, but the best thing about being in a campervan is that if you don't fancy your current pit stop, you can just pop down the roof and head off for the next one. There's none of the hassle of setting up tents, but all of the fun of camping, including cooking up a hearty breakfast on the tiny stove on drizzly Cornish mornings. Even in the rain, her little steel-rimmed headlights always seem to be smiling, and we're both grinning too.
---