---
---
Weekend Away
Camping Novices, the Prior family, experience glamping in the Cotswolds, vintage VW-style
Fresh from a retreat to a sunny island, co-existing with just goats and a fishing boat, we picked up 'Dharma', our 1971 Bay Window hire vehicle. We can't recommend Darren and Melanie of www.drivemycamper.co.uk highly enough – when we turned up, even their daughter and dog greeted us! Darren explained that Dharma had been fully restored and is serviced weekly. He then showed us the new interior, how the beds and pop-top work, what to do if random lights appeared on the dashboard and talked us through all the little idiosyncrasies these old Buses have.

The children were delighted with the space in the back and loved the mini house they were about to travel in. Not being seasoned campers we were wondering if we'd enjoy any sleep that night, until Darren told us one of his other Campers had just taken a bride and groom on honeymoon for nine weeks. Hearing this, we decided we'd surely cope!

We left our old Jag at HQ, but had Mike not driven a Camper before it would've been a bit of culture shock. The gear change is interesting, so too is hill climbing.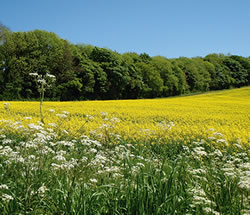 Our destination was a party in a barn in the Cotswolds belonging to friends. Mike drove and the children lounged in the back watching the countryside slowly pass by. I say slowly as this really was the nature of the beast. To pass the time, they were able to watch a film on the laptop, which they placed on the kitchen worktop, considerably reducing the "Are we nearly there yet?" quota. I suppose the journey in a 'normal' vehicle would have taken two and a half hours, instead of the three and a half it took us, but we enjoyed the road trip and the waving from fellow Camper drivers.

We stopped to buy fresh strawberries from the roadside in postcard-pretty Burford. Not far now. Eventually, we turned off into a road that would be the equivalent of 'platform nine and three quarters' in an Enid Blyton book. Vast fields of rapeseed, undulating hills and deep woodland surrounded the old barn. It really was in an idyllic world of its own, untouched by time. Our arrival brought those who had already arrived out to greet us, well, not us but Dharma – the van really was the star of the show.

Children were drawn to it as bees to honey, eager to explore 'the old lady' and, judging from the many squeals of delight heard from Dharma's interior, she certainly kept them entertained. There was a lot of love in that field!

Hog roast and dancing ensued. The band finished, but the drinking didn't, and we fell into Dharma in the early hours, having had the foresight to put the bed up when we'd arrived – good move!

We enjoyed a comfortable night's sleep and, surrounded by tents, we felt like we had 5-star accommodation. It was certainly lovely to camp without the bother of tent assembly and deconstruction, definitely more like 'glamping', and a gentle introduction to Glastonbury for our teenager…

After some table tennis, Scalextric, air pistol shooting, cycling and swimming pool action, we visited the pub in the beautiful village of Snowshill before we reluctantly returned a perfectly behaved Dharma with a promise that we'd be back.


---