---
---
Reproduced with kind permission
from the Sunday Telegraph
(June 2008)
Camping holidays: Heaven in a VW
By Clover Stroud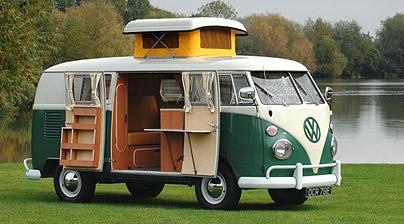 Clover Stroud and her children take to the road in an original VW camper van and wallow in a weekend of glorious nostalgia... and mud.
Hair straighteners. That was my first anxiety when I realised we would be spending the weekend in a camper van, in the rain, in a field, at a weekend party in Herefordshire. Without hair straighteners, how in the world was I going to pull off that late-Sixties, Joplin-esque hippie chick look that I felt was crucial to the image of driving a vintage camper van?
Painted egg-yolk yellow, and with the famous, cheery VW sign on the front, the van certainly looked the part; I was just worried that I might be the one letting the side down. It belonged to Andrew Stefanczyk, and is one of several that he rents out from his base in Hertfordshire. He acquired his first van last year, when his teenage son bought a wreck via eBay, and Stefanczyk saw the potential in doing up old vans to hire them out to fair-weather hippie chicks and sometimes-surfer dudes.
"I thought that we were only going to rent the vans to young people, surfers and kids going off to festivals, but they obviously have a really wide appeal," he says. "We've had everybody from retirement couples to teenagers going surfing to family parties."
I'm not surprised the vans have such a wide appeal, because there is something about them that just makes you smile as soon as you see them. Maybe it's the jaunty colours and the matching names, such as Poppy and Daisy, that Stefanczyk has given them. Or maybe it's just the fact that a vintage camper van embodies a time that's now long past, when the Beatles were big and blue jeans, rather than the features of the newest iPhone, was what really mattered.
Whatever the reason, hiring a camper van certainly allows you to wallow in delicious nostalgia, even if it's just for a couple of days.
Although they are authentic vans, each has been fitted with a new engine, and given a thorough facelift inside. Doors have been relined and seats covered in cheery matching colours, and the floor fitted with practical laminate flooring. Each camper sleeps four, as long as they don't mind getting pretty up close and personal – the beds are very narrow. Stefanczyk can also supply an awning, which could, at a real push, sleep another two.
Theoretically, therefore, each van sleeps six people, so hiring one as a gang would take some sting out of their only drawback, which is the expense. Because buying this weekend of nostalgia, with memories of a time when a packet of cigarettes cost 30p and a pint of bitter 10p, does not come cheap (see "Essentials" panel).
Once you've paid your bill, though, the delicious pleasure of chugging along in a VW soon helps you to forget everyday cares such as money. My children Jimmy Joe, 7, and Dolly, 4, were jangling with excitement when we set out from Oxford in Daisy on Friday night. They jumped into the van, imagining that they were going to be able to cook me supper, do the washing up, and make dens in the sliding roof as we drove along. Sadly for them, and a relief for me, each van is fitted with rear seat belts for child seats, and a cracking sound system. The children had to console themselves with playing with the cute little curtains, running round the edge of the van, as I slipped Johnny Cash into the CD player and turned the music up loud.
Stefanczyk told me that VW vans were designed as passenger buses, and are not as easy to drive as a modern car. I found the first few miles pretty white-knuckle as I gave myself a non-crash course in gears and brakes that were a good half-decade older than me. I never did master first gear, and I quickly learnt to start applying the brakes well in advance of an approaching red light.
But after an hour or so, there should have been flowers in my hair, because I felt I could drive all the way to San Francisco. I forgot about the black clouds that glowered over the horizon I was driving towards, and the fact that my wardrobe for the weekend consisted, optimistically, of little strappy dresses and jewelled flip-flops.
It was lucky that Daisy made me think of flowers and happy, hippie times, because the weather cruelly turned out to be British. It rained a lot. Luckily, part of the pleasure of a camper is that, as soon as you arrive at your pitch, you are ready to start camping straight away. Immediately we arrived in the giant puddle that was the camping field for the weekend party, we got the kettle on and sat up in our van, watching the earth-dwelling happy campers struggling with their blow-up beds and mismatching tent poles. I love camping, but this was still a deeply satisfying experience, and it was nice to be able to provide hot toddies to the less-fortunate campers around us from our built-in kitchen.
Sleeping in the van was cosy: Jimmy Joe and Dolly snuggled up in the roof above me, and I had the bed downstairs to myself. It would have been a pretty tight fit with four adults, but with children it was easy and extremely comfortable. Fun, too, for the children to be able to fall asleep with the music playing downstairs. Of course, if I had not been so keen on mixing (and drinking) toddies, I might have remembered to switch the ignition off before I went to sleep, which would have made Sunday afternoon, tangled in jump leads, a bit less stressful.
Camper-van life is adorable for children. Part of this is due to the diminutive size of all the fixtures and fittings. It was easier for me to do the washing up kneeling down at the tiny sink, but Dolly spent most of the weekend happily cleaning mugs and glasses in the little kitchen, which could have been built for her. Jimmy Joe liked the fact that the sliding bunks meant that there were endless places for him to make dens in his increasingly grubby sleeping bag.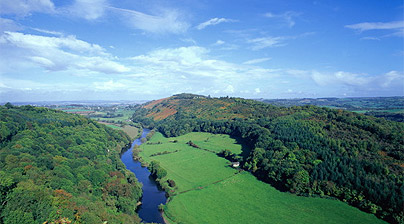 And this is easy camping: each van is equipped with a full kitchen set, including cutlery, pans, washing-up equipment, a tin opener, bottle opener and corkscrew. This means that all you really need to take is bedding, provisions and diversions.
Funnily enough, after the first night, I even stopped worrying about my hair straighteners. The vans are equipped with an electrical hookup though using it in a Herefordshire field was not an option. No matter, because when we got home, muddy, exhausted and extremely happy, I looked as if I had spent the weekend at a music festival. My hair wasn't straight. It was wild. Just back from Woodstock, I thought. I certainly looked the part.
Essentials
Drive My Camper (0870 910 9400; www.drivemycamper.com) has classic Volkswagen camper vans for hire from its base near Ware in Hertfordshire. Vans are available year-round, with prices from Ј60 between November and March; Ј80 April-June, September and October; and Ј130 in July and August.

On top of these, a sliding scale of nightly rates starts at Ј56, Ј76 and Ј103 respectively for one night, reducing for longer bookings. Extras, such as awning (Ј9.95), DVD-player (Ј6.50), a pair of additional campbeds (Ј4.50) and satnav (Ј7.50), are charged daily.
---