---
---
In The Slow Lane
By Kate Langrish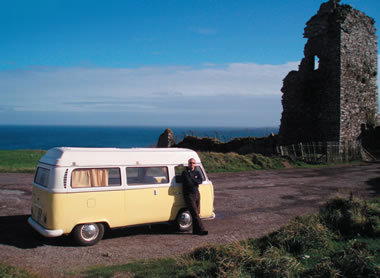 I don't think I've ever been on the receiving end of so many smiles and waves – even toots – before. The legendary friendliness of the Irish, I'm sure, had something to do with it, but I think the main reason was Daisy. A cheery custardcoloured yellow, she was the vintage 1971 VW camper van we'd hired for the week – take one look at her steel-rimmed blinking headlights and smiling radiator grill, and it was hard not to grin back…
Unlike most holidays, where you're at the mercy of check-in queues, baggage handlers and hotels that look nothing like they do in the brochure, there's a sense of freedom about setting off on the road with a camper van. You've got everything you need with you and the knowledge that if you don't like where you end up, you can turn the ignition and find somewhere better.
Then there's the slow pace of life (quite literally in this case, as Daisy's top speed was 60mph – downhill), which is perfect for holidays. It's easy to see why VW campers appealed to the free spirits of the 1960s and '70s, and became a much-coveted part of surf culture. You can't get anywhere fast, but then you don't need to as half the joy is in the bouncing, rattling journey.
Our first pit stop was a farm just outside the beautiful town of Kilkenny. Nore Valley Park is a working farm and owner Samuel Harper has diversified by adding hard standings and immaculate shower blocks. We pulled up so that Daisy had a wonderful view across the valley. At night, lying in bed beneath the pop-up roof, you could hear the snufflings of the cattle and the occasional quiet chatter of the geese. But mornings were best – we'd draw the little checked curtains, fire up the tiny hob and by the time the kettle started whistling, I was back from my trip to the main farmhouse, where Samuel's wife, Isobel, provided fresh rolls and homemade jams. Then it was time for me to help feed the baby animals (goats, rabbits, ducklings, even a donkey) – OK, yes, it was meant for children, but there weren't that many around…
As beautiful as Kilkenny was, we felt that Daisy needed to be true to her surfing heritage, so we headed for the coast. It's true that camper vans induce an easy-going feel to holidays, but the downside is that you do have to be the obsessively tidy sort of free spirit. When you set off in the morning, everything has to be locked down, fastened up and packed away. Leave a floral plastic mug out and it's likely to bludgeon you every time you turn a corner.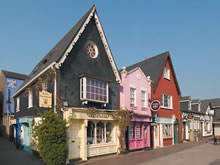 After a night in Blarney (home of the famous stone) just outside Cork, we drove down to the harbour town of Kinsale, a food-lover's paradise. Call it cheating if you like, but we decided that the stove, although perfectly adequate for frying bacon and eggs, did limit dinner options somewhat. So, instead, we kept the fridge stocked with wine and an assortment of local Irish cheeses for pre-dinner drinks, and then ate out. Kinsale, with its assortment of seafood restaurants and wonderful deli, was the perfect place to indulge in culinary delights (our favourite was Cucina on Market Street, a laid-back brasserie serving local food).
The afternoons were spent exploring the stunning coastline of County Cork. Bouncing along the coast roads, with Good Vibrations blaring from the speakers, it really felt as though we were entering into the spirit of things. We'd park next to a beach and walk along the vast, blustery stretches of sand – then retreat to the comfort of Daisy and brew a cup of tea while watching kite-surfers race beside the waves as the sun set.
Daisy, it has to be said, proved to be almost as thirsty as us. Even though she had a new engine, her fuel consumption was quite high – but the best thing about a camper van is that you really don't have to go far to feel like you're on holiday. In fact, even sitting inside it on your driveway feels like a world away (if you don't mind the postman giving you funny looks).
By the time we had to return Daisy, I was completely smitten. And she was still smiling as we waved goodbye.
---